Biotin – Facts and Fiction
Biotin is a vitamin used by the human body for many different purposes. It is found in numerous foods that are consumed by individuals daily, but only small amounts of it are present.  Taken as a supplement, it prevents a biotin deficiency sometimes related to pregnancy, malnutrition or rapid weight loss, to name a few causes.  However, it can also be taken in an effort to combat hair loss.
Biotin is also referred to as Vitamin B7 and is one of the B complex vitamins taken by many.  While it is mainly used to convert sugar into energy, it also helps to synthesize fat contained in the body by enabling the functions of acetyl Co-A carboxylase, an enzyme found naturally in the body.  A biotin deficiency can lead to a condition known as cradle cap in babies and adult cases of dermatitis.  So, you can see the part it plays in the skin covered areas of the body.  Biotin supplements have been shown to improve regrowth of hair and reverse signs of aging.
Since biotin also reduces stress reactions, it can also reduce hair loss caused by stress.  Adding biotin to your diet will not only protect hair follicles but keep the nerves that ensure their proper functioning healthy.
One of the first signs of a biotin deficiency is hair loss.  Since there are no tests that exist which will detect a biotin deficiency, hair loss is usually the first clue that you may be short on this important vitamin.  This hair loss is often accompanied by a loss in hair color.  There is evidence that hair loss can be prevented by combining an oral dose of biotin and zinc with a topical application of cream containing clobetasol propionate, commonly marketed as Olux or Temovate.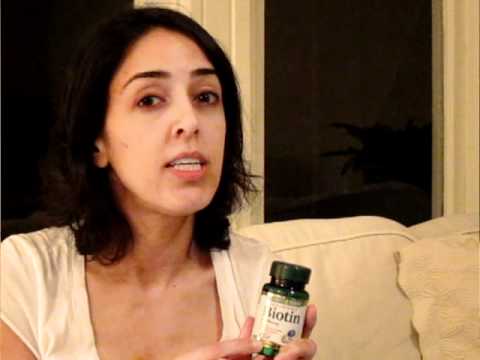 While the correct dosage of biotin will depend on factors like age, health and other conditions, no scientific dosage exists at this time for this vitamin.  Based on actual usage and studies, dosages up to 60 mg per day can be taken over an extended period of time without concern.  However, there have not been any cases reported of toxic levels of biotin.  There are even some studies that show as much intake as 500 mg a day can result in hair rejuvenation and growth.
An added bonus is its ability to reverse the graying process.  Be aware that just because a product is a natural vitamin, does not mean that it is safe to take in an incorrect manner.  Always read the label for complete directions and see your doctor if you need further information on how it may affect you.  Additionally, your pharmacist can provide information on how it may affect medications that you may already be taking.